INNOVATIVE ANTIMICROBIAL PRODUCTS
INNOVATIVE ANTIMICROBIAL PRODUCTS
The effective solution for establishment of hygienic environments.
Permanent protection of various types of materials against bacteria, fungi, molds and algae.
Tailor made antimicrobial products for environment, such us medical centers, homes, public places, etc.
The most common complications in medical treatment are the presence of the bacteria on all the surfaces of medical center.
Anything made of plastic or plastic coating is a potential source of cross-infection, thus tailor made antimicrobial products inhibit the growth of bacteria, algea, fungi, mold and mildew and hence hygienic environment.
Our antimicrobial products reduce, within few seconds, all antibacterial activity to 0.1 %. The active antimicrobial component additionally prevents renovation of bacteria.
WALL AND FLOUR COVERS
ANTIMICROBIAL sheets are connected and sealed preventing development of bacteria for more that 10 years .
ANTIMICROBIAL sheets are suitable for surgery, sterilization, delivery rooms, labs, production lines of medical manufacturers, food producers and all areas where sterilization and bacteria prevention is fundamental.
ANTIMICROBIAL sheets were tested in accredited labs certified and approved for inspection of bacterial prevention.
Advantages of using ANTIMICROBIAL sheets as wall and floor covers:
ANTIMICROBIAL sheets are resistant for most chemicals in use at labs, operation rooms and hospital environment.
ANTIMICROBIAL sheets is cost effective compared with alternative walls covers due to minimal maintenance and cleaning that is required in other covering solutions.
ANTIMICROBIAL  sheets is suitable for various types of walls; ceramic, dry walls, cement, bricks and alike.
Installation of ANTIMICROBIAL sheets on walls does not reduce overall room area as all sheets suit to the walls and adjusted to the setting and other accessories (sinks and alike) that already installed.
Installation of ANTIMICROBIAL sheets on walls is fast and efficient and DOES NOT shutdown the room for long period of time. Yes, work resumes in fast turn around.
MEDICAL DEVICES
The inspection performed during 24 hours on selected surfaces on the ANTIMICROBIAL sheet show reduction of the bacterial level to 0.1% infection level.
Based on the results ANTIMICROBIAL products such as patient cabinet, trays and alike, are free of bacteria for long period of time.
Among the many materials investigated, metals and their oxides have proven antimicrobial activities:
Among the many materials investigated, metals and their oxides have proven antimicrobial activities:
SILVER
Since ancient times, the silver ion has been known to be effective against a broad range of microorganisms.
Today, silver ions are used to control bacterial growth in a variety of medical applications, including dental work, catheters, and the healing of burn wounds. Silver ions are also used for a number of nonmedical purposes, such as in electrical appliances. The slow-release "nanosilver" linings of laundry machines, dishwashers, refrigerators, and toilet seats are also marketed and advertised.
COPPER
Copper and alloys, containing greater than 60 % copper, reduces bacterial burdens on a solid surface by 99,9 % within 2 hours. Copper surface have been found to substantially diminish the density of bacteria to levels bellow those considered a risk to a person for a acquisition of an infection.
ZINC
Zinc and especially ZnO nanoparticles are of great interest due to their stability and reported antibacterial properties. ZnO nanoparticles are active against microbes at neutral pH without the need for light. These nanoparticles can be used in conjunction with polymers to extend their application.
TITANIUM
Titanium in particular TiO2 nanoparticles is utilized for a wide variety of applications. Polymer immobilized TiO2 nanoparticles are commonly synthesized as self-cleaning or packaging films. The antimicrobial activity of this polymer is due to the generation of ROS when the nanoparticles are exposed to UV irradiation.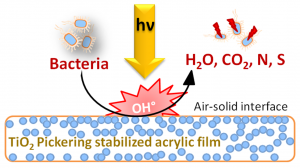 MAGNESIUM
Magnesium metal has drawn significant attention in recent times. It is cheap, abundant and the cation Mg2+ is essential in mammals as it is vital to many biological processes. Nanoparticles are generally obtained as Mg(OH)2 where this particles have been proven to exhibit antimicrobial activity.
ZIRCONIUM
Zirconium mixed ligands complexes have been shown to possess significant antibacterial as well as antifungal activity
Metals that also show high antimicrobial activity are gallium, tin, cobalt, nickel, molybdenum, etc.
The activity of a metal is bacteria specific, since differences in bacterial cell walls (Gram-positive and Gram-negative) can influence the activity of the metals.